Businesses large and small rely on information technology. Whether you call it "IT," "computer stuff," "network support," or "I.T.," technology is essential to our everyday workplace, and integrating even the most essential tools can get complicated. If you have a computer network in your business, you'll save time and money by having it configured and maintained by experienced, knowledgeable professionals like the IT Consultants of XETX Business Solutions.
From a computer network with several desktop computers to supporting devices such as modems, routers, switches, servers, printers, multifunction copiers, and scanners, technology helps our offices perform. With wireless devices like laptop and tablet computers, smartphones, video projectors, and more, business happens in the office, out of the office, and on the go.
And that's just the hardware. The software can be even more complex. Business owners are devoting more time and resources to keeping networks secure and protecting data from viruses, adware, spyware, and hacking attacks. (And if you're not concerned with cybersecurity, you should be.)
XETX IT Solutions fit the needs of businesses that don't have the resources to employ a full staff of information technology professionals. Even businesses large enough to have a full-time IT staff, sometimes need additional help from experts with additional knowledge and updated training.
XETX Business Solutions can help you navigate the complicated maze of hardware and software configuration, integration, and data security through qualified IT Consulting Services. Our team has the training and experience to keep your network running smoothly, efficiently, and securely.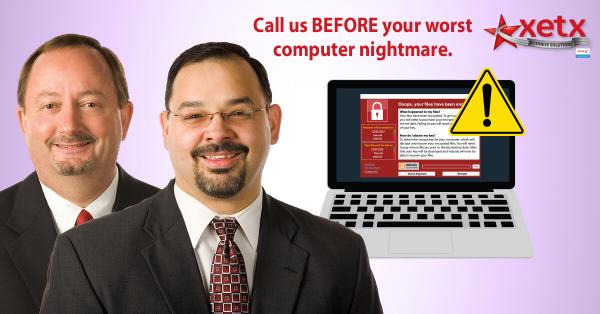 XETX Business Solutions IT Consultants perform initial installations, system updates, and virus removal. We offer on-site or remote troubleshooting and much more. Our support is local and our professionals understand the needs of our area. Our XETX Business Solutions IT Consultants will handle your system issues with professionalism and courtesy.
Annual agreements are available for ongoing services and include priority responses. XETX Business Solutions IT Consultants can also support your internal team with I.T. Services as needed on a project-by-project basis.